You are here
The CME Micro Bitcoin Future (MBT)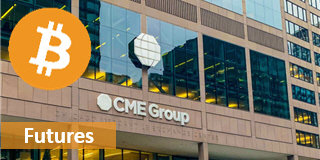 The new CME Micro Bitcoin Futures are available for trading. Given the general interest in cryptocurrencies, we should take a closer look at this interesting instrument.
Interesting because it is currently one of the few solutions to invest in cryptocurrencies in a simple, safe and reliable way. In fact, the Micro Bitcoin future is traded on a real exchange, the renowned CME (Chicago Mercantile Exchange). The CME is the largest futures exchange in the world.
---
This is also a solution to trade Bitcoin, Ethereum and 15 other cryptocurrencies as well as stocks on 21 exchanges on 1 bank account.
---
The CME Group has published a lot of information about the Micro Bitcoin Future. Let's take a look at the key elements:
Will I receive Bitcoin when a Micro Bitcoin Futures contract expires?
No, you will not receive Bitcoin upon expiration. Micro Bitcoin futures are cash settled to the CME CF Bitcoin Reference Rate (BRR) on the last day of trading. This means that a trader will receive the associated cash position upon settlement.
What is the relationship between Micro Bitcoin futures and the underlying spot market?
CME Micro Bitcoin futures are based on the CME CF Bitcoin Reference Rate (BRR), which aggregates bitcoin trading activity across major bitcoin spot exchanges between 3:00 p.m. and 4:00 p.m. London time.
What regulation applies to the trading of Micro Bitcoin futures?
The trading and clearing of Micro Bitcoin futures is regulated by the Commodity Futures Trading Commission (CFTC), the regulatory body with exclusive jurisdiction over US Bitcoin futures markets.
Do I need a digital wallet to trade Micro Bitcoin futures?
No, because Micro Bitcoin futures are financially settled and therefore do not involve the exchange of bitcoin, you do not need a digital wallet to trade this contract. To trade futures, you must open an account with a registered futures broker who will maintain your account and guarantee your trades. In the futures business, brokerage firms are known as either a futures commission merchant (FCM), or an introducing broker (IB).
Are Micro Bitcoin futures subject to price limits?
Yes, Micro Bitcoin futures are subject to price limits on a dynamic basis. At the commencement of each trading day, Micro Bitcoin futures are assigned a price limit variant which equals a percentage of the prior day's Exchange-determined settlement price, or a price deemed appropriate by CME Group. During the trading day, the dynamic variant is applied in rolling 60-minute look-back periods to establish dynamic lower and upper price fluctuation limits as follows:
The dynamic variant is subtracted from the highest trade and/or bid price during a look-back period to establish the lower price fluctuation limit.
The dynamic variant is added to the lowest trade and/or offer price during a look-back period to establish the upper price fluctuation limit.
Now that you are ready to start trading the CME's Micro Bitcoin Futures, all you need are the contract specifications.
---
If you do not yet have a futures trading account, we recommend broker WH SELFINVEST. You can try a trading demo
---
---
People also read
---
---
---
"It is always the best discretion to let the market show us where it is going and just simply follow (this would be prudent), rather than predict where the market is going and place a position (this would be gambling)."
- Anne-Marie Beiynd