You are here
Learn how to trade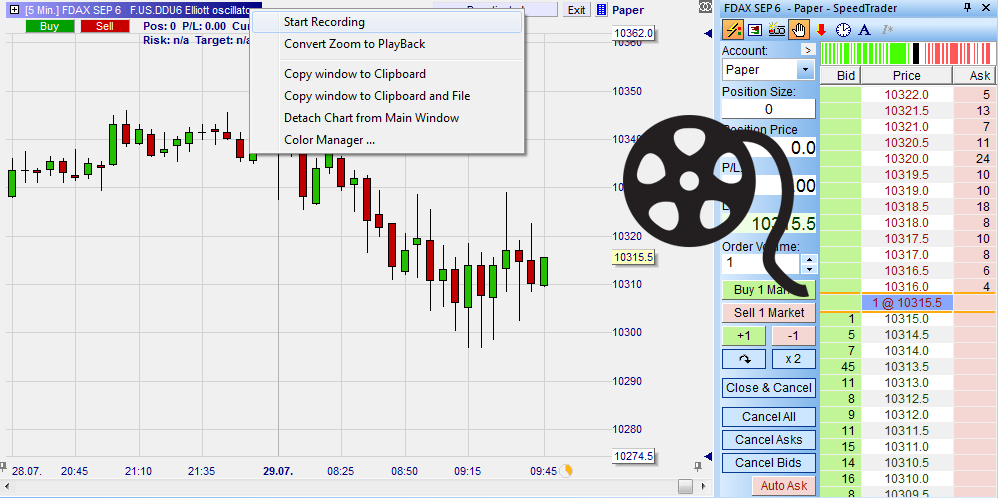 Recording and Playback are different but related functions. Recording allows traders to record trading days. Playback allows traders to select any past trading days in a chart and replay that day tick-by-tick.
The advantages of the Recording function are:
Go over a trading day again and learn from your actions.
Try alternative decisions and see how they would have panned out.
Keep a record of interesting situations, not as a screenshot but as a recording
The advantages of the Playback function are:
Grow your skills and experience by trading any past market.
Move faster up the learning curve by trading several days in an hour.
Pick particular situations on a chart (sideways, break-outs...) and test your strategies.
Both functions are excellent for practising even when the market is closed. Trading seminar teachers use these functions to make their training realistic.
Download a free real-time demo of the NanoTrader Full trading platform
---
1. RECORDING
By recording a trading day the trader can go over the action again. In the case of futures trading the order book and time and sales are also recorded. By reviewing the trading day the trader can identify what he did well and where there is room for improvement. He can tweak his trading strategy and test if the modified trading strategy would have done better in the same context. Recordings of interesting situations can be kept for future reference.
The recording can be played at normal speed, accelerated or slowed down.
2. PLAYBACK
Traders can pick any day(s) in a chart which they deem of interest and play them back. Trading on the playback is good training and excellent to test trading strategies. This example shows a playback.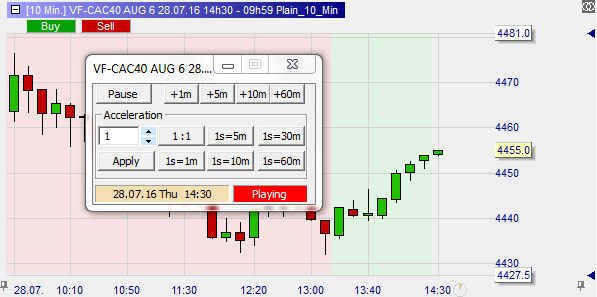 Besides training oneself, Playback is often used by trading seminar teachers. Instead of using static screenshots they can show how the market behaves, they can stop the replay and ask their students 'what would you do now?'.
The playback can be played at normal speed, accelerated or slowed down.
3. WEEKEND
All recordings and playbacks can be played whenever it suits the trader. This makes them excellent tools for training even when the markets are closed. Select an interesting period on the chart, one click turns it into a playback, trade, accelerate between opportunities ... in one hour you have gained the same experience as sitting through several trading days.
Note: all NanoTrader users have permanent real-time demo account, which is also a great tool for practicing your trading skills.
---
Download a free real-time demo of the NanoTrader Full trading platform