You are here
The S&P 500 Night Rider trading strategy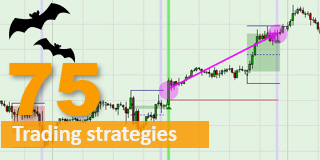 The S&P 500 Night Rider strategy was designed by a German trader. The strategy is active after the close of the US stock market i.e. after the so-called 'closing bell'. This strategy for trading the S&P 500 market index is available for free in the NanoTrader platform.
The trader chose this specific moment as his hunting ground for a very good reason. It is clear that most large investors (funds etc.) do not daytrade. They wait for the closing price to make decisions. Once these decisions are made, some immediately start implementing them. The closing price can therefore sometimes lead to large price movements. The S&P 500 Night Rider strategy is ready to profit from these strong movements.
---
Opening and closing a position
The trader uses a filter based on moving averages to determine the market trend. The filter rejects or accepts signals.
To open a position a specific chart pattern needs to occur.
To close the position the trader uses a stop loss and a flat filter. A flat filter closes a position at a particular point in time. In this strategy, at the of day 3. It is easy to set such criteria in NanoTrader.
The precise settings for the signals filter, the description of the required chart pattern for entry, the stop loss and the time filter can be found on this page dedicated to the S&P 500 Night Rider strategy.
Two trading examples
This example shows the entry chart pattern. The background of the chart is green. The signals filter considers the market trend sufficiently bullish to accept the buy signal. Notice also the red chart pattern for a short sell signal. Given that the signals filter considers the market bullish (green chart background), the short sell signal is ignored.
The green triangle indicates when the position is opened. Othe data, such as the position size, can be shown in the chart. The stop loss, which is placed automatically, protects the position. The flat filter, which automatically closes the position, is working invisibly in the background.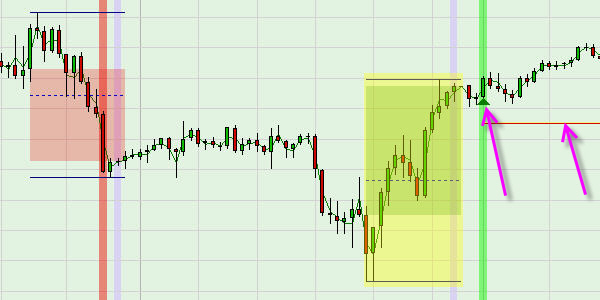 This example shows a trade from open to close. The green background indicates the signals filter considered the market trend sufficiently bullish to accept buy signals. The required chart pattern occured and the S&P 500 Night Rider strategy opened a long position. As expected, the market went up. The stop loss order (red line) is never even close. Hence the position is closed automatically with a profit by the flat filter.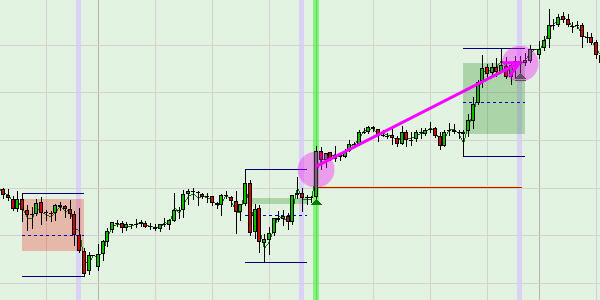 Good to know The fact that the for our Asian and European readers the trading signals appear late in the evening is not a problem. Simply use the AutoOrder function in the NanoTrader trading platform (free demo). The platform will take care of the rest.
---
Recommended regulated managed account service
---
People also read
---
Recommended broker
---
"Remember that stocks are never too high for you to begin buying or too low to begin selling."
- trader Jesse Livermore