You are here
The Gold Dumper Trading-Strategy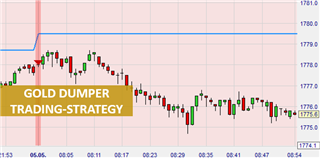 Market effects, sometimes called seasonal effects, are recurring patterns in the markets. Some patterns develop over several days, some patterns occur during the day. The Gold Dumper strategy is used by German trader Holger Breuer. Holger Breuer discovered an intraday pattern in the gold price. According to this trader, the gold price has a tendency to weaken during the morning. The Gold Dumper trading strategy is designed to profit from this detected recurring weakness.
Advantages of the Gold Dumper Trading-Strategy:
can be used for all gold instruments
time-saving trading strategy with 2-3 signals per week
precisely customizable with daily filter
---
What is the Gold Dumper Trading-Strategy?
The Gold Dumper Trading-Strategy is based on a weakness of the gold price. The Gold Dumper therefore only opens short sell positions. Since the strategy relies only on opening short-sell positions, it is a good candidate to add to a portfolio or to complement other strategies that rely more on buy positions. The gold market tends to have violent short-term moves in one direction. Many trades are ended early in profit due to a tight profit target. It is therefore a stable intraday strategy to take advantage of the effect of the seasonality of the gold price.
When to get into position?
For a valid short signal of the Gold Dumper trading strategy to take a position, the following conditions apply:
Only the gold price from 8:00 to 22:00 is relevant. The price outside these hours is not taken into account.
A short signal occurs at 8:00 am when the gold price is below the 5-day moving average.
A position is opened either at 8:00 or not at all.
The following example shows a signal. The blue line is the 5-day moving average. The gold price at 8:00 am is below this average, which turns the background of the chart red. The trader opens a short position.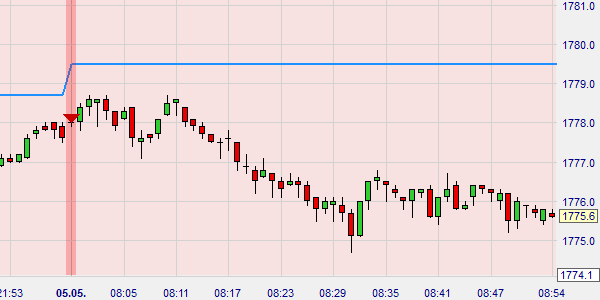 When to close a position?
A position is closed by the Gold Dumper trading strategy when one of these three events occurs:
The profit target of 0.5 percent is achieved.
The stop loss of 1.0 percent has been reached.
The time stop of 15:45 is reached.
The following example shows a gold dumper position that reached the profit target (green line) after two hours. The stop loss (red line) was not used.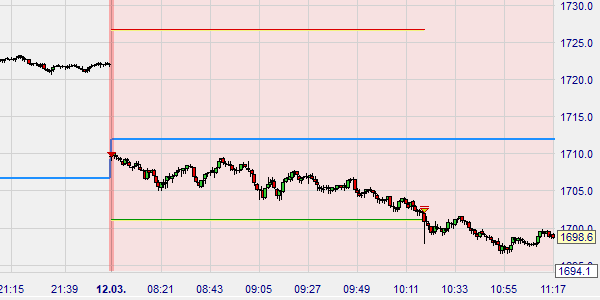 This further example shows a Gold Dumper position closed by the time stop at 15:45.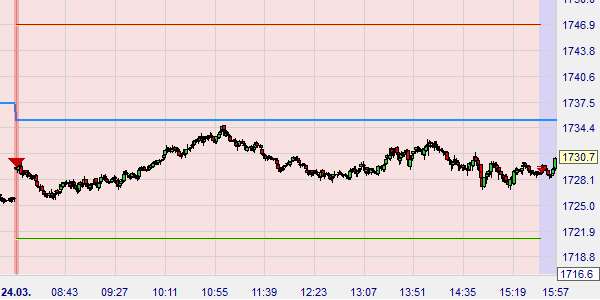 Conclusion
Trader Holger Breuer notes that the Gold Dumper trading strategy works better on some days than others. Traders are encouraged to filter days depending on the day of the week. The strategy in the NanoTrader platform already includes a day filter. Users can easily turn on or off individual days to accept or reject signals.
---
People also read these trading articles
---
---