You are here
The trend is your friend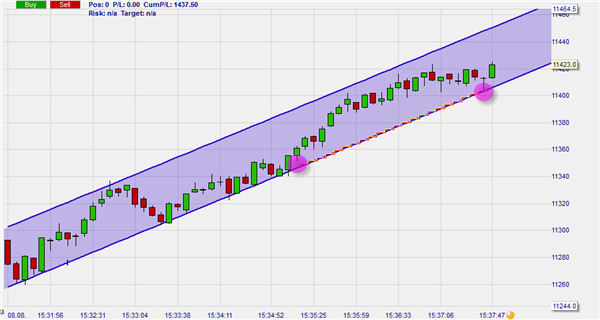 Draw your trendline or -channel and instruct NanoTrader to use it as a stop loss. Many traders use trendlines and trendchannels. NanoTrader allows the trader to actively use his trendline or -channel as  the level for a stop order.
The advantages for the trader:
You can use your trendline or -channel as a stop.
Your stop order will automatically follow the slope of the trendline or -channel.
You can use this function in any time frame and on any instrument.
Your position remains open as long as the trend remains intact.
Download a free real-time demo of the NanoTrader Full trading platform
---
A FEW EXAMPLES
The intelligent trendline or –channel stops allow the trader to surf the trend when managing  open positions.
This example shows a trader who bought a long position and who used the bottom of his trendchannel as his stop. The stop order automatically follows the trendchannel.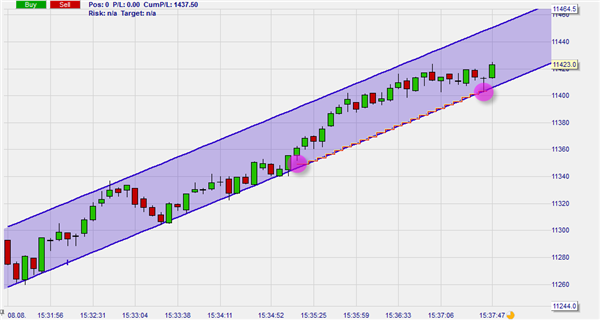 This example shows a trader who combined a profit target (green line) with a stop loss on his trendline. The profit target was reached and the position closed with a profit.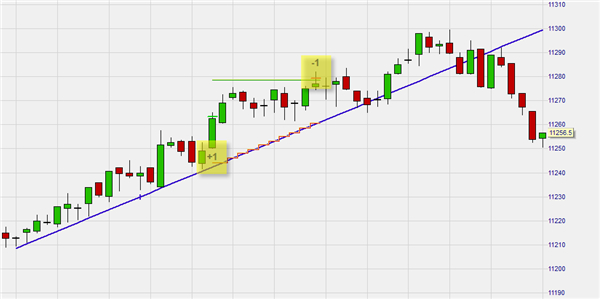 Besides stop orders based on the trend, the NanoTrader offers many other types of intelligent stop orders.
---
This video shows a trendline stop order:
Download a free real-time demo of the NanoTrader Full trading platform